Saskatchewan is o­ne of the coldest provinces in Canada.  At times temperatures can plummet below -40 degrees Celsius (C), not a place where you would expect tasty cherries and honeysuckles to grow vigorously.  Nonetheless, through the hard work of breeding programs and growers groups, the production of fruit is sprouting up across the province like never before.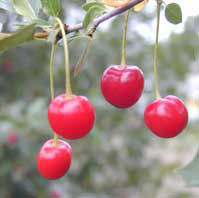 The Saskatchewan Dwarf Sour Cherry Prunus cerasus was developed at the University of Saskatchewan in the mid-1990s.  The first Dwarf Cherry to come out the U of S was called Carmine Jewel.  In 2006 the Romance Series was released complete with Romeo, Juliet, Crimson Passion and, of course, Cupid.
Unlike sweet cherries that you usually find in the store, the sour cherry is primarily used for baking or cooking.  But don't be fooled, they taste pretty good right off the bush too and there are always the specialty products such as wines, sauces, and even chocolate-covered cherries.  What makes these cherries so special is the winter and drought hardiness that is bred into them.  The bush o­nly grows 6-8 feet tall, so it is easy to harvest, and the fruit has extremely high Brix levels.  Another advantage the Saskatchewan cherries have over sour cherries grown elsewhere is that they can be grown organically because the winters are so harsh, insects and disease cannot survive.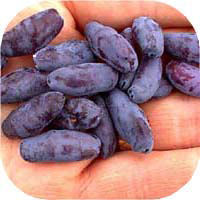 Another fruit that is hot o­n the Saskatchewan radar is Lonicera caerulea, also known as blue honeysuckle or honeyberry.  Haskap is undergoing extensive breeding at the University of Saskatchewan Plant Sciences Department.  The University possesses over 85 clones from Russia, Japan, the Kuril Islands, and wild plants from across Canada.  These clones are cross bred to make new varieties that are being tested for their ability to stand up to mechanical harvest and sorting as well as taste.  The results of this breeding are new and improved cultivars referred to as Haskap.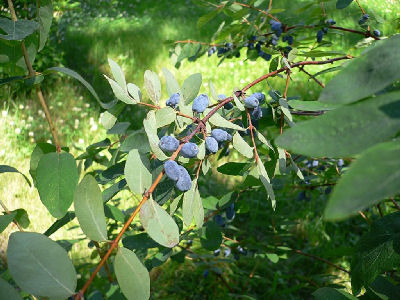 Many keen producers have already found ways to incorporate these fruiting shrubs into their farming systems.  A quote from the Saskatchewan Fruit Growers Association notes that there are over 70,000 sour cherry trees planted in the Prairie Provinces, most of them in Saskatchewan, within a year there could be two million pounds of cherries being produced.  Producers have worked together to form both the Haskap Canada Association and the Canadian Cherry Growers Incorporated who promote the production and marketing of their products.You can expect Haskap to be the first fruit of the season, ripening in early June.  Plants begin producing within the first couple years of planting and should reach peak production at 4-5 years.  This is unique for a fruit and very appealing to someone wanting to get into the fruit-growing market as quickly as possible.  The flavor of the fruit has been described as a mix between a blueberry and a raspberry.  Like the cherry, there have been few to no diseases found that affect the plant, possibly because it does produce fruit so early, leaving it open to organic production.  Products made from these berries include jams, juice, pies, wine and ice cream.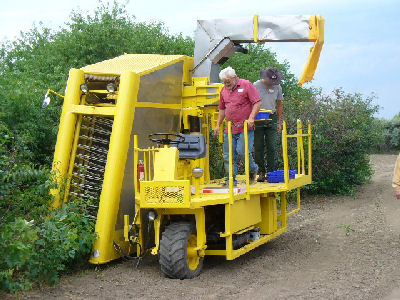 These fruit trees have the potential to find their way out of the orchard setting and into more traditional agroforestry systems such as riparian buffers and alley cropping.
Watch out British Columbia! Watch out California and Florida!  There will soon be a new place o­n the map for fruit production.  Who knows what's next?  Maybe we'll see a cold-hardy citrus popping up in the Saskatchewan backyard.
You may feel free to contact the author of this article:
This email address is being protected from spambots. You need JavaScript enabled to view it.
ForestFirst
Agroforestry Agrologist
Agroforestry Unit
101-1061 Central Avenue
Prince Albert
Saskatchewan Canada
(306) 765-2856