Couple Farms Herbs and Mushrooms Under Managed Forest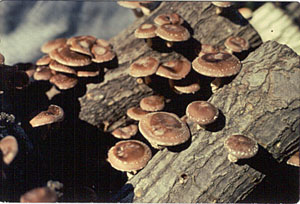 By Mariah Cornwoman, Twin Tails Farm, Tonasket, WA
Even before we purchased our property, we had a checklist of environmental parameters that we were looking for. We wanted a piece with a number of small environmental niches and species diversity. We wanted both conifer and hardwood species in the forest. We have a perennial, spring-fed creek that runs o­n the diagonal across our land. We have ponderosa pine and open sage o­n the dry, southwest-facing slope. We have Douglas fir and tamarack with fescue meadows o­n the moist, northeast-facing slope. And there are several deciduous species including aspen, douglas maple and water birch along the riparian zone of the creek, with a number of small benches outside the no-cut zone.
Details

Written by

Tyler Carlson
Suggest Updates to the AFTA Website
Please help us keep this website as up-to-date and complete as possible by suggesting information that should be added, updated or deleted if it is no longer accurate. Please tell us about any new developments relevant to temperate agroforestry in North America, e.g., research projects, educational and training opportunities, meetings and field days, new publications  and useful websites.
Details

Written by

Tyler Carlson
Who We Are
The mission of AFTA is to promote the wider adoption of agroforestry by landowners in temperate regions of North America. Formed in 1991, the Association for Temperate Agroforestry Inc. (AFTA) is a private, non-profit, 501(c)(3) organization based at the University of Missouri Center for Agroforestry at Columbia. 
Details

Written by

Super User